Ca y est, Sega vient enfin de dévoiler les 2 jeux Sonic qui doivent être annoncés aujourd'hui : Sonic Rush (qui se trouve bien être le Sonic sur DS) et Sonic Gems Collection, qui chose à peine croyable, est bien une nouvelle compile contenant Sonic CD, Sonic R et Sonic the Fighters !!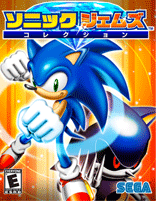 Pour l'occasion, Sega Corporation (Japon) vient de mettre en ligne 3 sites dédiés aux futurs titres, donc plus une minute à perdre !
Homepage Shadow the Hedgehog sur Xbox, GC et PS2 (JAP)
Homepage Sonic Rush sur DS (JAP)
Homepage Sonic Gems Collection sur GC et PS2 (JAP)
On notera que l'arrivée de Sonic Gems Collection semble tout bonnement imminante puisqu'annoncé pour Août 2005 au Japon !!